Articles Index
Rocky Horror

Crazed Imaginations - Issue 2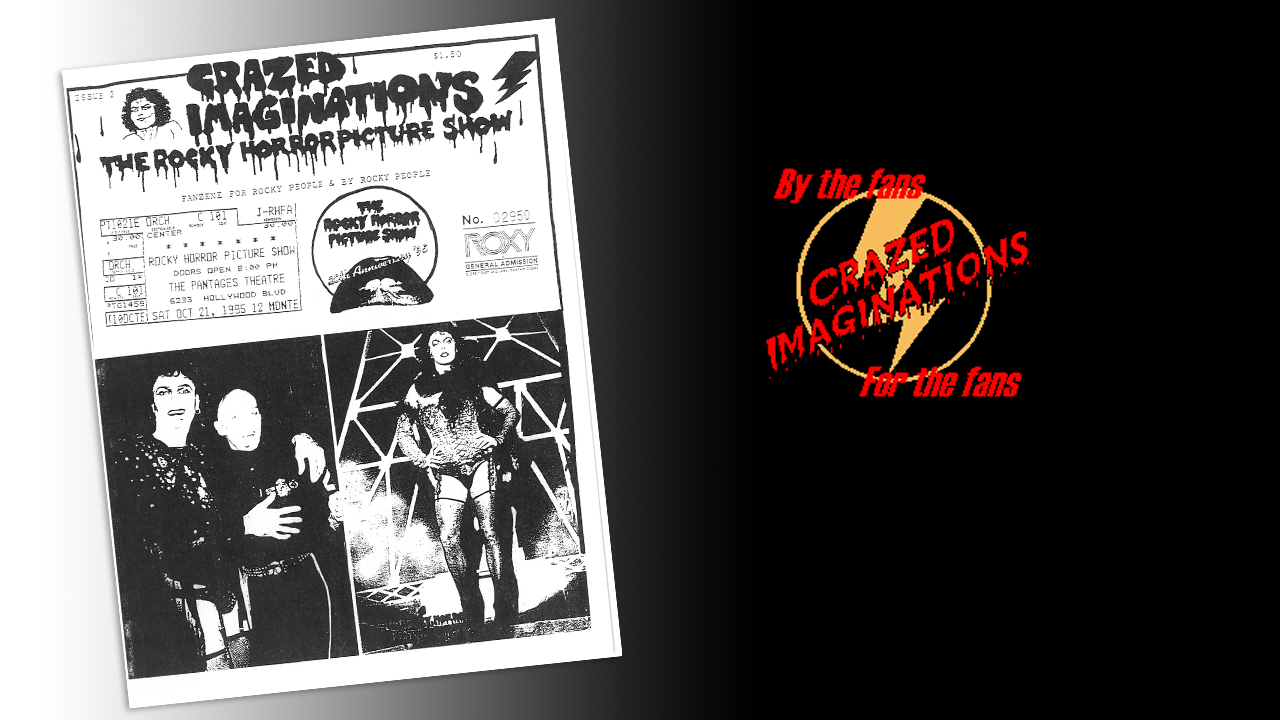 Well that took a while...
I posted the first article about Crazed almost five months ago... And I very truly intended to get through these far quicker than it has turned out. But then we ended up selling our house (the market was just too good not to!), which allowed us to move back to New York City, and excitingly to central Manhattan. Of course that took a lot of doing, packing up a house is a monumental task. The box of issues of Crazed Imaginations, and well, all the (multiple!) boxes of Rocky books were the last to get closed up, and they were the first to come back out in the new place (of course). It was practically a necessity to keep up with writing and recording Rocky Talkie. I found it a wonderful stress reliever during all of that moving to pause every few nights and read through an issue of Crazed. A snapshot of Rocky Horror's history. I've kept notes around some of them, but will still have to be going back and flipping through when I write these summaries -- rest assured, I will get through them all - more are on their way, especially now that we are all settled after moving.
Second Time's the Charm
"Crazed Imaginations" - Issue 2
Oct. 1995
Single Issue
Issue 2
The second issue really begins to show what Bill and Amy were aiming to create with Crazed. Bill's Editorial, an anecdote about judging people based on their appearance - riffing on Frank's "Don't Judge a Book By Its Cover" - resonates today as it did 25 years ago when it was written. Though, I take solace in knowing that the New York City where a roving car of teenagers would threaten to beat up anyone who they assumed was gay is far closer to being a thing of the past. Sadly, even today, that's not the case in all parts of the country.
In the fanfic department, the second issue continues Bill's series crossing over Quantum Leap and New York City's 8th Street Playhouse. This was a fun follow up to the first story -- I was excited to be introduced to a host of characters that are famous from the 8th st days. Several of whom I have had the good fortune to meet myself in the years since I moved to New York. I especially appreciated Bill's effort to describe details with accuracy - the way the show was, New York City of the late 70s and early 80s, and what Rocky was.
There's a brief note that Bill makes at the end of the story. A disclaimer of sorts about what type of accuracy he is striving for in the historical aspects of the story, and where liberties have been taken. I was more than a little flushed when.. well.. Bill spoke directly to me, across-time 26 years into the future (which I found especially amusing given the nature of the Fanfic that it was attached to). Bill writes:
"So, for those of you who have read Sals books and the other books about Rocky Horror and have read about the "old glory days" on 8th street, I hope this gives you a good idea of what these authors were trying to express."
Bill, you have no idea. Thank you. I can't wait to read part three.
What follows is the first appearance of community-submitted content to appear in Crazed. Imagine that, issue two and the community is excited enough to send in contributions. I can relate with Rocky Talkie, it was only within the first episode or two that we started getting submissions. The more things change, the more they stay the same...
The next bit is an amusing set of Top Ten Lists from Charley Brown and the Tucson Arizona cast "A Jump to the Left". "Top Ten Comments Virgins Make within the first half hour at Rocky Horror" was more my speed, though I did get a wonderful dose of period nostalgia in "Top Ten Unsuccessful Pickup Lines at RHPS," which features, at Number 1. "Hi, I voted for Dan Quail". Yep. Tell me it's 1995 without telling me it's 1995.
Which brings us to the main feature of the issue...
The Official California 20th Annaversary (sic) Convention Review
Ahh yes. The 20th "Annaversary". Just a reminder that we're still in the days of dictionary, typewriter, and white-out, with autocorrect still a decade away.
This is, however, the most complete telling of the 20th Anniversary I've ever seen. Creatures of the Night II only runs up through mid-1995, before the 20th takes place. There's a ton of great first-hand experiences from Bill. Getting to meet Richard and Pat -- the Japanese Cast (do they even still exist? -- I haven't heard anything in years).
The first-ever showing of Once in a While was especially wonderful to read about -- community members were crying - to have been a fly on the wall... The whole event sounds spectacular - with a kind of fervor and pop-culture-touchstone that has waned over the years. The major anniversaries are when Rocky Conventions get mainstream media coverage - VH1 and bunch of other global networks were in attendance here. I really hope to see that specific feeling captured during the 50th, now only a few years away.
There's also a full rundown of the Shock Treatment "Feature" - We'd probably all call it a Preshow these days. This includes a complete cast list, much appreciated for whenever we get to our 20th anniversary or Shock Treatment episodes of Rocky Talkie. I'm a little blown away that there wasn't a full-blown Shadowcast of the entirety of Shock Treatment - I've never been to a convention where that wasn't the norm for Shocky.
There's a full page dedicated to an ad for Fan Club Merch - taunting me with prices that I could have paid in 1995 instead of having to scour ebay every weekend and pay a premium... such is life. We also get an appearance from Amy advertising her costuming business.
The Open Announcement Page is mostly Bill flirting with various people, near and far. And others in the community throwing shout-outs in the days before widespread digital communication. Lots of Big Dick Energy.
The second fanfic piece of the issue, Revenge of the Old Queen, continues Bill's take on Richard's ROTOQ concept - now thoroughly believed to be a defunct project by the community (it was!) I like Bill's focus on Riff's story and interaction with native Transylvanians and their culture far more than the limited amount that Richard wrote in the real ROTOQ script. I look forward to continuing it and seeing the results of the write-in contest.
In their wrap up, Bill and Amy's perspective is a very familiar one. Appreciation towards the community, then 20 years old, and the overwhelming support the community gave to their endeavor with Crazed. Something I'm glad to echo 25 years later, when we began Rocky Talkie. Notable, is a mention that the fanzine received a lot of shout-outs online! An omen of the impeding digital revolution, and foreshadowing what would be the fanzine's eventual downfall.
The back cover features an illustration and poem from Stephenie Smith of Scranton PA. I've seen it before (after?) and wonder if this was the first place it was ever published. Quite Probably...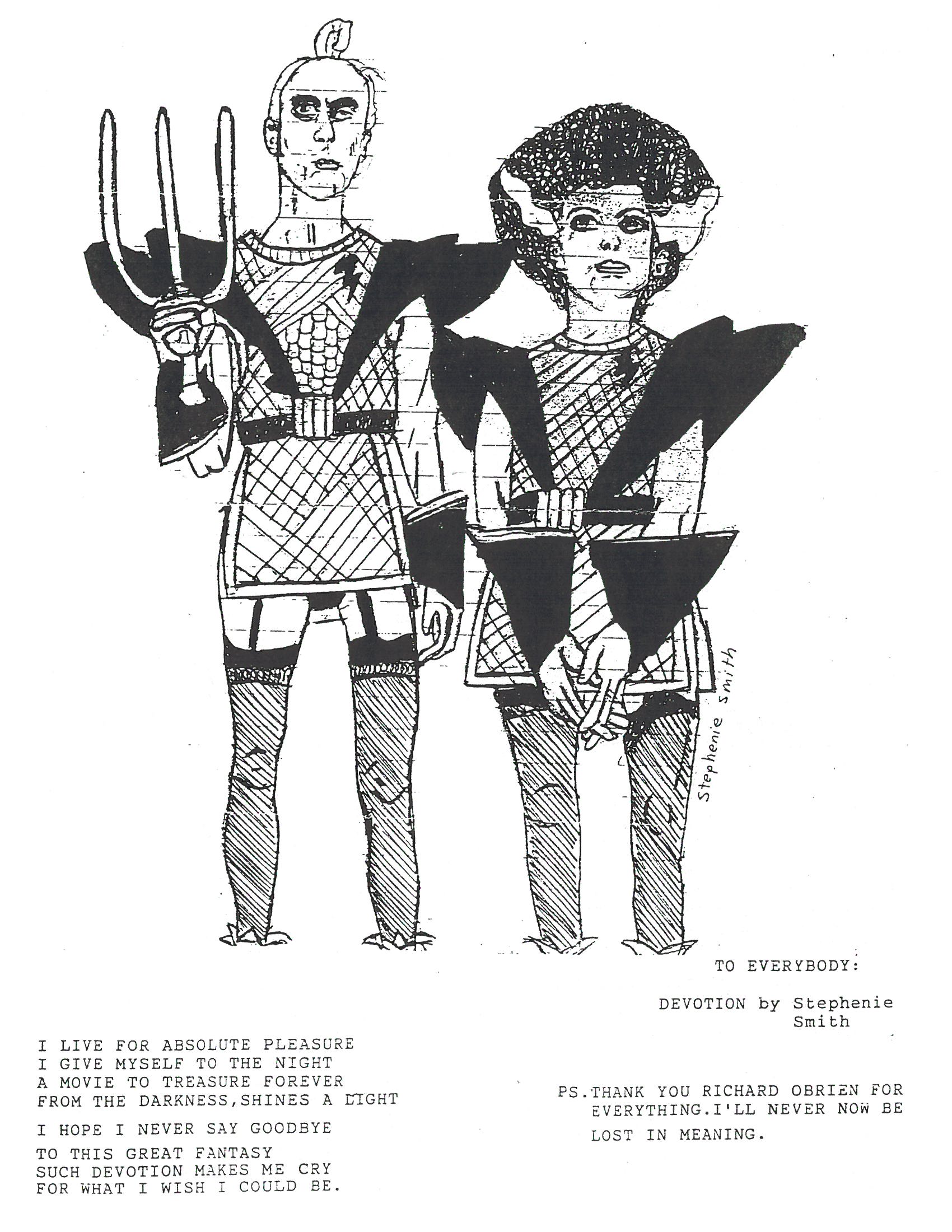 Editorial
Don't Judge a book by It's Cover - Bill Brennan
Fanfic
"A Leap to the Left" pt 2 - Bill Brennan
"Revenge of the Old Queen." pt 2 - Bill Brennan
Top 10 Lists
From Charley Brown and the Tucson Arizona cast "A Jump to the Left"
"Top Ten Comments Virgins Make within the first half hour at Rocky Horror"
"Top Ten Unsuccessfull Pickup Lines at RHPS"
News Items
The Official California 20th Annaversary (sic) Convention Review
Features
Last Words - Bill Brennan and Amy Warnke