Articles Index
Rocky Horror

Crazed Imaginations - Issue 1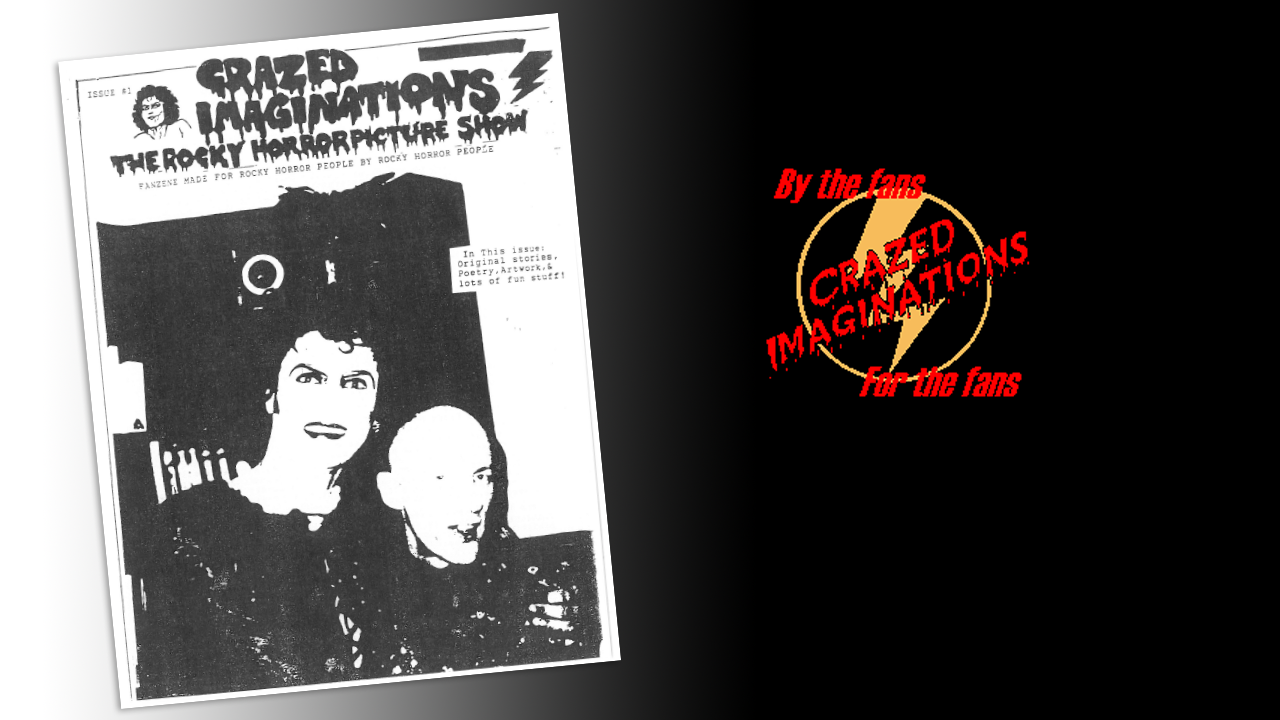 What? Why?
I suppose a brief explanation is in order. Why the hell am I writing an article about a, now 26-year-old, fanzine that nobody will probably ever see? Well, for one, as an expanded archive for my own purposes. And two, as a way of collecting my thoughts as I read through all these tidbits of Rocky Horror history.
Rocky Horror has a fantastic community of devoted fans, and has for almost 50 years. The fans are very good at documenting every little tidbit about the stage show, the movie, the stars, and all matter of memorabilia, facts upon facts upon facts. But there isn't a ton of documentation about the community itself.
That's a lie.
There is a ton of documentation of the community, but it exists in periodicals, fanzines, photographs and video, and of course memories - the least reliable of all archival formats.
There are exceptions, of course. Sal's "Creatures of the Night" books provide an excellent overview of Rocky through the late 70s up to 1995. It's very New York centric, but provides a strong background. There are also several documentaries - "A Regular Frankie Fan" being my personal favorite. And though it is extremely out of date and cringe-inducing, it's always a fun watch for the uninitiated. There's also the 2015 book "People Like Us" by Lauren Everett. It features a lot of great pictures and interviews with community members, but on the whole, is a snapshot of one moment in the community. As such, it is not significantly useful as a research tool, but is still super fun to see photos of friends, many who have since moved on from Rocky.
You also have the newsgroup, alt.cult-movies.rocky-horror - which spans from the early nineties to the early 2000s. Unlike Livejournal, Facebook, Myspace, the Cosmos's Factory forums, and the other online communities that are lost to archival, the newsgroup does provide a slice of the Rocky Horror community. But it is a slice of the most technically inclined - the demographics (from the time) skewed older - and it often skimped on "local" content. You also have very few images and video. But being digital, it is at least searchable, which makes it an inherently valuable research tool.
Given the disparate and often incomplete sources, this frequently leads to a situation when researching where you have to retrace over the same material again and again, trying to find that post or article or clip that you remember seeing. And if you are looking for something from a specific time - well, you better hope someone decided to post about it to a mailing list 25 years ago.
So that's what leads me here. I contacted Ruth Fink-Winter a while back, and asked about hunting down an entire set of "Crazed Imaginations." Not a simple ask - and one that Ruth has been amazing to help me out with. Being one of the longest running and one of the most dense fan publications, "Crazed" is a fantastic snapshot of the community throughout the late 1990s and into the 2000s. Prior to that, the most prolific fanzines are primarily "Shop Talk," covering the 80s, and "The Transylvanian" - published by many of the same people involved in the fan club, and running from the late 70s into the early 80s. "The Transylvanian" has been relatively easy to acquire most of the issues. "Shop Talk" is requiring a bit more digging, but I'm slowly acquiring those time capsules - as well as many of the other fan publications from the period. And while I love seeing the events told in "real time" from these fanzines covering the 70s and 80s, the material is generally well covered in "Creatures of the Night" and even some of the more modern books like "Still the Beast is Feeding."
So why write a bunch of summaries about issues of "Crazed"? Ruth already has a great reference for what is contained in each issue of Crazed. Sure, you have to view it through the wayback machine, but that's a small obstacle to doing research. However, and justifiably, the article index mostly contains the highlights of each issue. But when writing Rocky Talkie, often the references I'm looking for aren't the big important articles - it's the offhanded quotes about seeing a few shows or a short review of a recent special event. And that's where the notes I'm writing now will be super useful for me. Being digital, they are easy to search and index. And well, if anyone out there has their interest piqued, that's a nice side effect. "Crazed" is one of the most complete and interesting archives of what went on month-by-month in the Rocky community, and I'm absolutely thrilled to get to go through it.
What to do about the community's history from the mid 2000s through today? It's a shame so much of it is lost to the unarchivable walled gardens of social media. At least I was there to experience it... but as mentioned before, memory is a very poor archival medium. A problem for another day...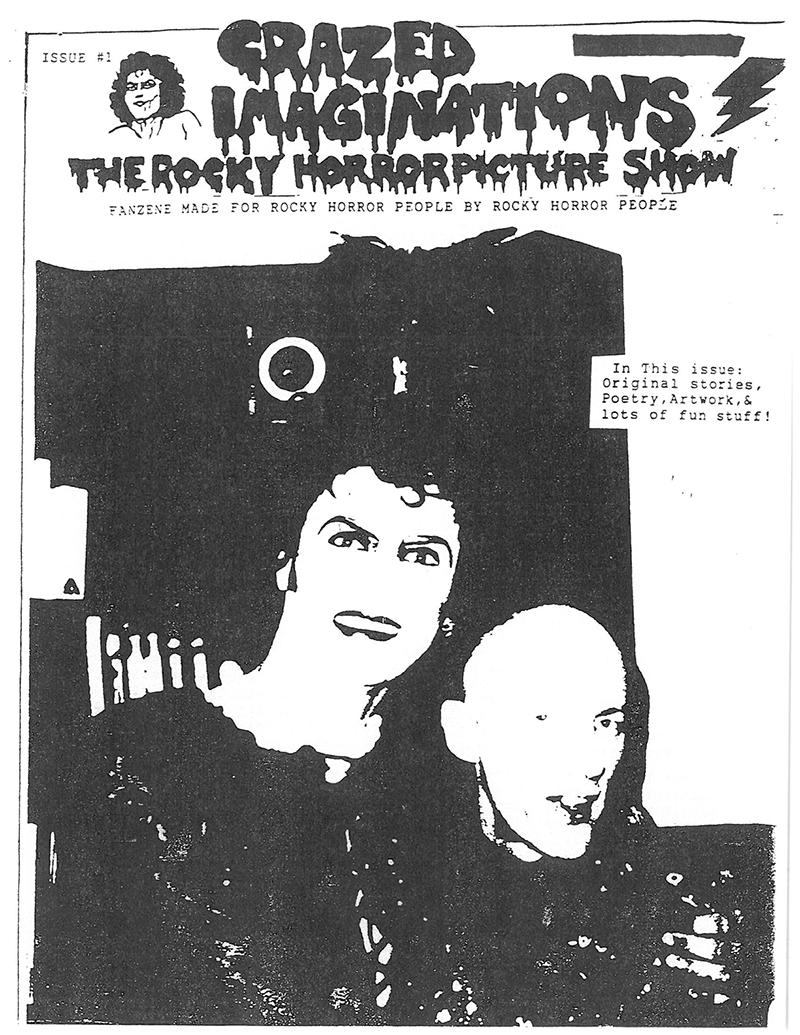 The one that started it all...
"Crazed Imaginations" - Issue 1
Sept. 1995
Single Issue
Issue 1
You've always got to start somewhere, and "Crazed" is no exception. The inaugural issue, put together by longtime community member Bill Brennan, is a little sparse on content, but big on ideas. From the get-go Bill lays out a (relatively) clear vision for the fanzine, how it will appeal to the wider Rocky community, and hopes to avoid the in-jokes and self-referential prose that saturated a lot of local fanzines.
Right off the bat, we get a couple of fun fanfic stories - the first in Bill's series crossing over Quantum Leap and New York City's 8th Street Playhouse. It's an entertaining introduction to a story that I'm excited to have all the segments for. There's nothing more disappointing than reading a story in a fanzine and finding that you are missing the next chapter. The second fanfic is a "Revenge of the Old Queen" piece. This one follows many of the same ideas that anyone familiar with Dori Hartley's stories in "The Transylvanian" will recognize. Though I would suspect that the similarity is mostly due to the proliferation of information leaked about "Revenge of the Old Queen" to the community - there's only so many ways to write in that universe.
In (what I have loosely grouped together) as the news section, you see a few great quotes that I immediately flagged for Rocky Talkie. You have a brief mention of Larry's second Albany convention. Cons are extremely poorly documented across the community, so any accounts are great to see. And, of particular interest to me, was some of the notes about the New York City Cast, and the club shows that the cast would perform. A fun bit was the segment about the 1995 New York pride parade. This got a chuckle out of me, as I would take part in that same parade a decade later as part of the NY cast - but only once, I do not do well in sun. All in all, these are the little news segments that I love to see.
And while it's clear that the production quality had a long way to mature - the inaugural issue being photocopied and assembled with typewriter and scissors, I know it does improve within a handful of issues, and there's a bit of nostalgic charm in "the old way" of assembling these kinds of fanzines. I'm especially excited to go through "Crazed" as its publication spans the worldwide progression from analog into digital, which impacts both the technical aspects, but also the very nature of the content and the contributors.
And if you ever wonder just how much more difficult it was to publish something that had to be written on a typewriter, where spelling and grammar checking involved white-out and a dictionary, ohh boy. Typos abound! I think my favorite is in the wrap-up where accidental reference to the "PUBLIC ANNONNCEMENT" page manages to be both accurate (the page often features anonymous write-ins) and left me puzzling if I had read the previous section header wrong, because it's kinda a great (albeit accidental) name.
I would be remiss to not mention the artwork and advertisements that feature in the issue. Due to the quality loss during mass reproduction, and the primitive nature of affordable copying, almost everything in the early issues is monochrome. Strictly black and white. This makes a lot of the photographs very difficult to make out, but the line artwork throughout is well done, if amateurish. Most of the ads are for upcoming events local to the east coast, or for send-away merchandise. I think my favorite ad in Issue 1 is a promo for the Hellfire Club in NYC, featuring my favorite phrase "A little slap and tickle." The 90's - amiright? lol.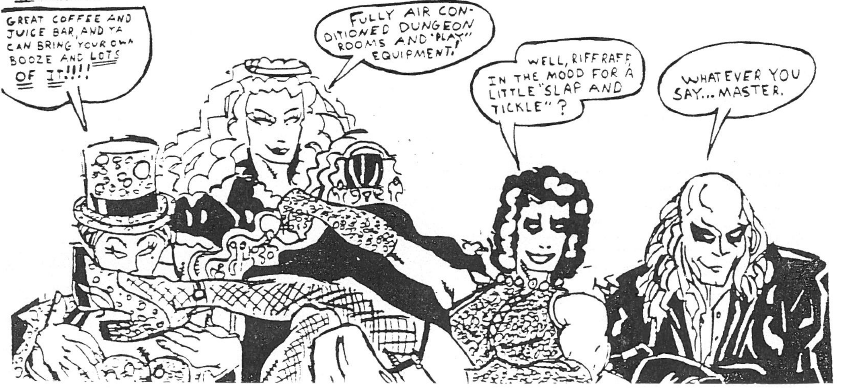 Next time I'll probably combine a couple of issues into a single post, not needing to ramble about why I'm being so obsessive. But this one will take a while to get through - there are over 100 issues in the catalog.
Fanfic
"A Leap to the Left" - Bill Brennan
"Revenge of the Old Queen." - Bill Brennan
News Items
Mini-review "Killers" book by David Drake
End of the second run of "Shock Treatment" at the Paramus Casts theater, Cinema 35
2nd Albany Convention Hosted by Larry Veizel
Sal appears at Castle Transylvanians show in Maryland (their 1 year anniversary)
NY/NJ Fanzine "In Your Pants" (also written by Bill?) ended, contributors to continue with crazed
NYC Cast performs at LIMELIGHT and other nightclubs
NYC Pride Parade recap
"To Wong Foo, Thanks for Everything! Julie Newmar" new release announcement
Features