Show Notes Index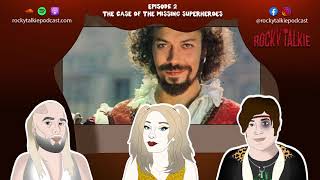 Episode 2
The Case of the Missing Superheroes
Join Aaron, Nicki, and Jon, as they discuss the 30th anniversary of the VHS release, what's become of Drag Race contestant Aiden Zhane since her internet feud with Patricia Quinn, the Time Warp Ballroom picture that's been circulating on social media and its creator; and learn about the differences in all the released iterations of the movie.
If you have any events or stories you'd like to share in Community News, or a question you'd like to have featured in Nicki Asks A Question, visit our website RockyTalkiePodcast.com and fill out the Contact Us form. We can't wait to hear from you!
If you enjoy our show, you know the drill: please like, subscribe and leave us a comment! And come visit us on social media, all @RockyTalkiePodcast
If you're more of an audio person than a video person, our podcasts are also available on soundcloud, spotify, and apple podcasts!
Global News:
Community News:
Books mentioned during community news:
"Confessions of a Transylvanian: a story of Sex, Drugs and Rocky Horror" by Kevin Theis
"It's Just a Jump to the Left...: The Unauthorized Guide to Occult Symbolism in the Rocky Horror Picture Show" by Weishaupt, Isaac
A Dramatic Reading of:
"The Tragedy of Rocky, the Very Picture of Horror" by Nicholas Dollak
Sources used in Nicki Asks A Question:
"Creatures of the Night 2" by Sal Piro
"The Rocky Horror Picture Show FAQ: Everything Left to Know About the Campy Cult Classic" by Dave Thompson
Music:
Intro/Outro - Jupiter's Smile by The 126ers
Stings - Library at freesound.org
Credits:
Script by Jacob Roger-Gordon and Meg Fierro
Produced and edited by Meg Fierro
Rocky Talkie is an Audiogasmic LLC Production
#therockyhorrorpictureshow #rockyhorrorpictureshow #rockyhorror #rhps #shadowcasting #shadowcast #theater #theatre #cinema #movies #musicals